Koh Rong and Koh Rong Samloem islands are popular tourist destinations in Cambodia, 27 beaches, amazing white sand, wild nature, coral reefs serving positive to the Kingdom's perception among other countries.
Only Koh Rong has hard titles and is allowed for private property ownership. Koh Rong Samloem island wholly rented to Emario Group. On the other hand, Royal Group owns 1/5th of Koh Rong island for 99 years.
As well as tourism, real estate market on Koh Rong is rising up.* There are things to know for any buyer who is willing to buy or rent a property in Koh Rong and Koh Rong Samloem islands, Cambodia.
"In 2001 the government passed a new Land Law which has continued this trend of recognizing an individual's private right to land and property ownership. The new 2001 Land law set in place a framework through which individuals can register their land and have their land recognized at the national government level."
As for property ownership, Koh Rong history starts from 14 June 2017 when the government started issuing hard titles on Koh Rong island and in 2018 recognizing land plots belonging to 500+ families on Koh Rong island.
In 2019, Koh Rong is declared as a city by a sub-decree from Cambodian government on February 2019. Koh Rong and Koh Rong Samloem (Sanloem) islands aren't under Sihanoukville (West Port) administration anymore. They are together one city, one municipality.
Currently (as of second half of 2019), Royal Group has started development projects of an airport on Koh Rong to serve domestic and international flights, and of development area including 35 hectares beachfront development, and a big Casino.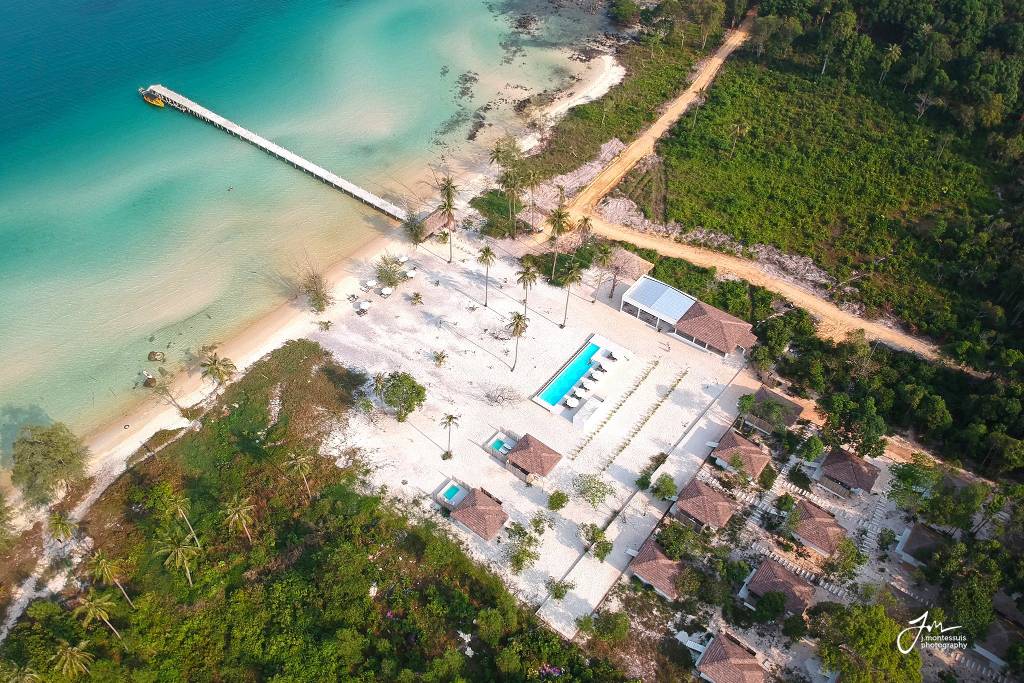 "The Royal Group alone plans to develop over a total area of 2,500 hectares; another smaller 100 companies will also be developing on the island. Airport, Casino, transportation services, water treatment plants and electricity will soon be developed there. Moreover, the government also plans to make Koh Rong into a tourist city, which is good news for local villagers in particular and the province in general."
Koh Rong has a sustainable city master-plan suitable for developments without problems of infrastructure, transportation and pollution. Main roads of Koh Rong are 50 meters wide and 30 meters wide travelling around all beaches of Koh Rong island. Considering that Koh Rong is as big as Sihanoukville city, the master-plan regards all areas of Koh Rong easy to connect all other areas. The government has already started construction of roads on Koh Rong.
References:
(1) https://opendevelopmentcambodia.net/news/koh-rong-land-hard-titles-released-to-fasttrack-island-development-plan/
(2) https://www.khmertimeskh.com/575652/koh-rong-islands-to-form-kingdoms-newest-city/
(3) http://www.aclf.com.kh/wp-content/uploads/2018/08/Land-Ownership-at-Koh-Rong-Samloem.pdf
(4) https://www.realestate.com.kh/news/Koh-Rong-Land-Hard-Titles-Released-Today-to-Fasttrack-Island-Development-Plan/
* As Beyond Realty Co, to our clients from worldwide countries (USA, Europe, Asia, China, Russia, Korea, Japan, Canada, UK, Ireland, New Zealand, Africa, Middle East, Turkey, Australia, Malaysia, Singapore as well as Cambodia, we provide property (land, commercial property, residential property) in Koh Rong island, Cambodia. To Check (buy, rent, sell) the latest property (Land, commercial and residential property: for sale and for rent): Koh Rong real estate property
** For a detailed analysis and explanation of Title Deed Types: Property Ownership Documents in Cambodia, please read: Title Deed Types