Ream City is a new urban high-end development on Ream Bay in the province of Sihanoukville, is an upcoming milestone of real estate in Cambodia. It is the second biggest development project in Cambodia after the Dara Sakor project. The Ream City project is developed by Prince Holding Group's subsidiary, Canopy Sands, and is being constructed by Surbana Jurong Group, a Singapore-based global consulting firm for urban infrastructure and services management. It will transform the entire Sihanoukville region of Cambodia into the second-largest city and home to the country's only deep-water port, creating a sustainable ecosystem of tourism, commerce, and housing with the potential for 130,000 inhabitants. The master plan sets out a land-use plan that requires a total investment of 834 hectares of reclaimed land (427 hectares of land plus, 407 hectares filled land on shore. It is only a 10-minute drive from Sihanoukville International Airport. The Ream City real estate project will link Ream Bay, Otres Beach, Ochheuteal Beach, and the airport with a major economic and tourism area. The Ream development is part of the Ministry of Tourism's Naga City project, which will cover 3,081 hectares of land. The extensive seafront promenade will stretch for 6 km, support a wide range of water activities and bring vitality to the community.
About the Developer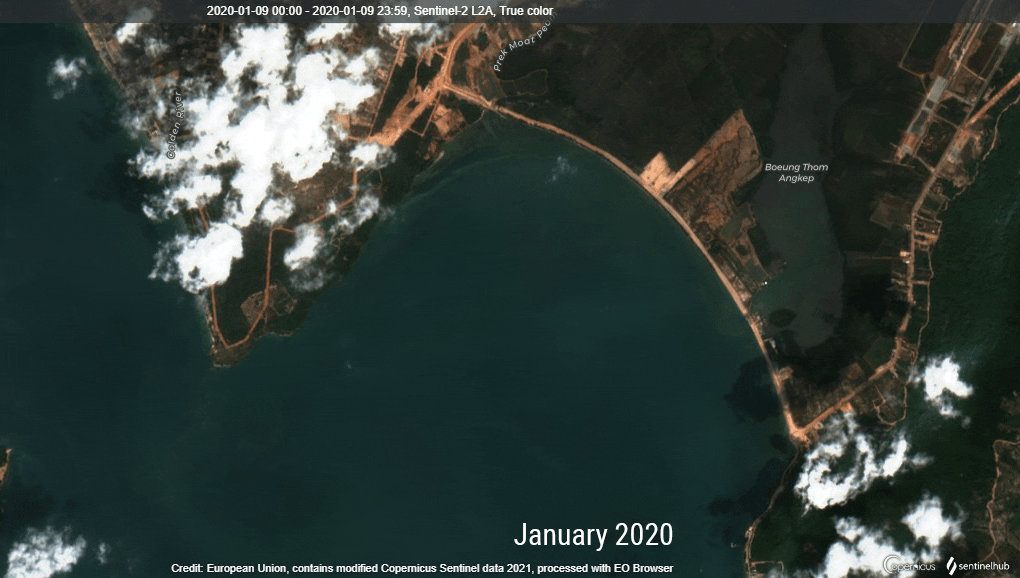 Prince Holding Group, also known as Prince Group, is one of the largest corporate conglomerates in Cambodia, with businesses spanning multiple industries, including real estate development, banking, finance, aviation, tourism, logistics, technology, food and beverages, and lifestyle sectors. Prince group has a dozen of completed and ongoing projects in multiple cities of Cambodia.
Canopy Sands Development Co., Ltd ("Canopy Sands") aims to accelerate the development of key Cambodian economic sectors by initiating and driving forward economically sustainable projects that aim to fulfill important public needs and make meaningful contributions to local communities in Sihanoukville. By working closely with local businesses and core sector supply chains, the overall company strategy adopts a unique, holistic approach that delivers sustainable economic returns, positive social benefits to the local population, and attractive investment returns. Over the next 5-10 years, the company's rapidly expanding collaborations with public and private players in the business, tourism, logistics, retail, transportation, healthcare, and education will gradually establish an incredibly diverse portfolio of high-value projects.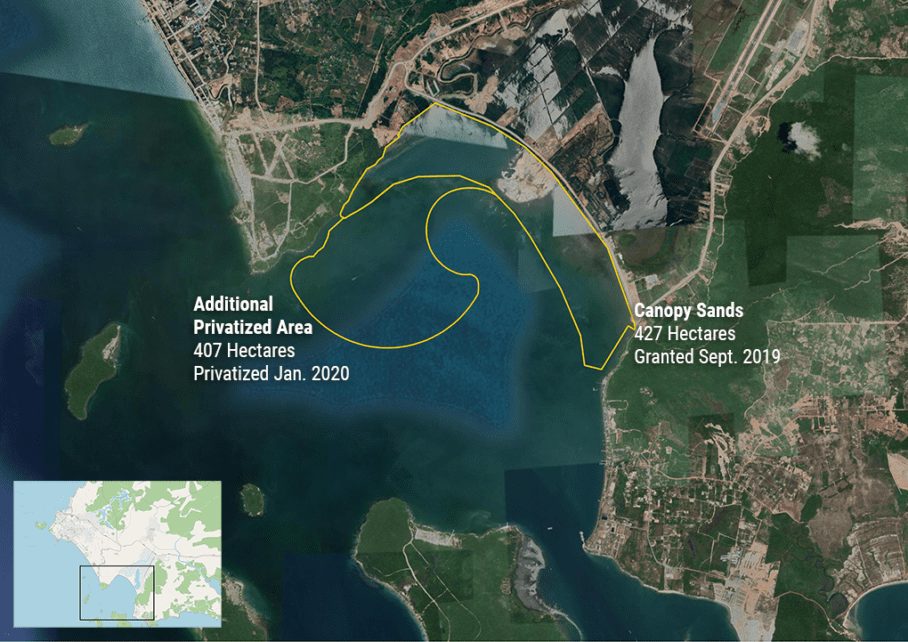 Solid Contractor
The SURBANA JURONG Group (Sheng Yu Ji Tuan) is a Singaporean government-owned consultancy company focusing on infrastructure and urban development. It was formed in June 2015 with the merger of Surbana International Consultants and Jurong International Holdings.
Surbana Group is one of the largest Asian services and consulting firms for urban infrastructure management with a track record of 70 years of successful project execution. As a leading real estate developer, Canopy Sands Development works to build dynamic new communities in Cambodia built to the highest international standards. The company's vision is to create a thriving living and working environment that enhances people's livelihoods and well-being and brings lasting prosperity to local communities. The company, led by a local and international team of experienced, respected, and respected professionals with unique, critical, and global perspectives, sets the foundations for greater economic opportunities, major socioeconomic benefits, and long-term prosperity. This will create significant economic, social, and educational opportunities and bring lasting and lasting benefits to the Cambodian communities.
They have a global talent pool of more than 16,000 employees in over 120 offices in 40 countries includes architects, designers, planners, engineers, and other specialists who drive forward progressive thinking and creative ideas to build a better future. Their wealth of experience has built over a million homes in Singapore, created master plans for more than 30 countries, developed more than 100 industrial parks, built homes, designed cities that are sustainable, and empower communities to thrive. They provide a full range of consulting services in a variety of sectors including aviation, healthcare, hospitality, transportation, water, environment, and energy resources.
The Project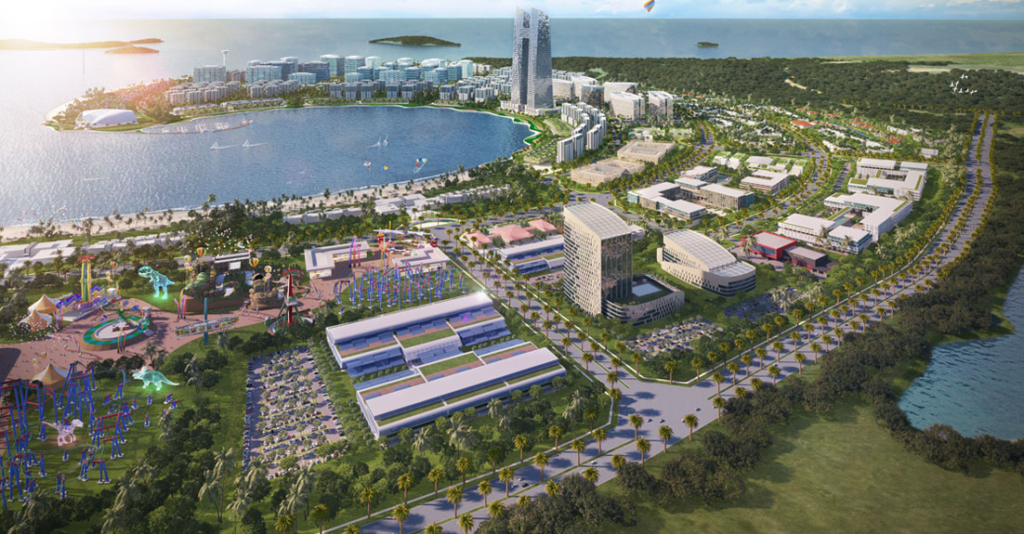 According to Canopy Sands Development CEO Khong Weng Fook, the Ream City property will be built in three phases over a period of more than 20 years. "…This required the acquisition of the right consultants to assist us in the conception and design of this iconic development." The development takes into account the principles of sustainable design and aims to benefit the local community over the long term. Its first phase completion is scheduled for 2025, while the second is aiming to be ready by 2035 and the final ones will be finished by 2045.
Sihanoukville province is reportedly also diversifying economically with a growing base of entertainment, manufacturing, logistics, electricity production, and agriculture businesses. It is situated at the crossroads of major infrastructure initiatives like the Belt and Road Initiative and the Greater Mekong Subregion Economic Corridors southern route. In addition, the airport is undergoing expansion and will initially see its capacity increase to accommodate 3.6 million passengers annually with further plans expected to deal with a potential passenger load of 10 million by 2030.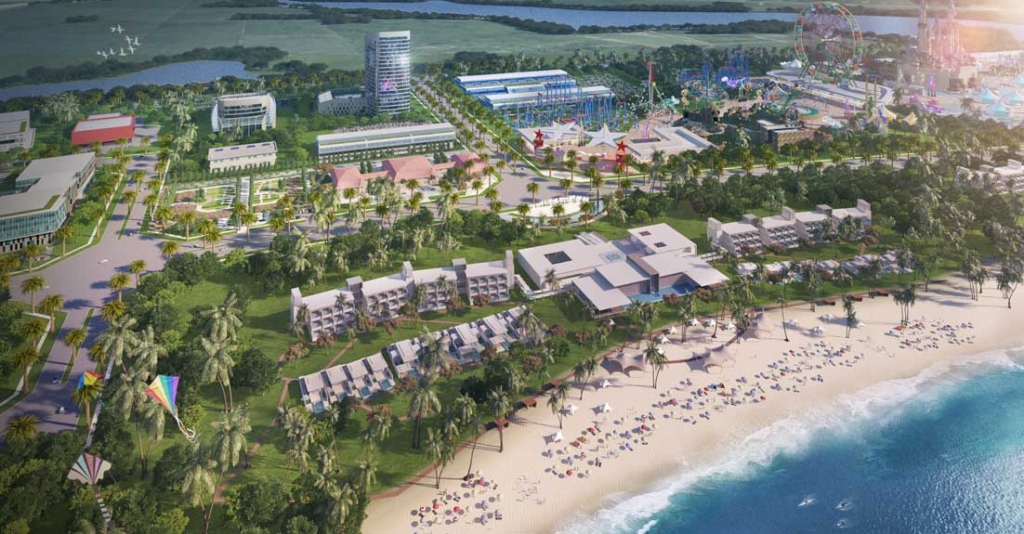 According to the news distributed by Canopy Sands, Singaporean company Surbana Jurong was commissioned with the master plan, town planning, and coastal engineering. To date, the company has approved the master plan for the development of the 834 hectares of sustainable Ream City. Following completion of the master plan, the city of Ream, developed by the Surbana Jurong Group will build family attractions, rural condos, beachfront homes, affordable housing developments, themed shopping malls, business centers, beach hotels, condotels, marinas, and clubs.
As a unique development project, Ream City will showcase Cambodia's rich heritage, traditions, and culture by harnessing the breathtaking natural beauty of Sihanoukville. Khong Weng Fook, CEO of Canopy Sands Development, shared his plans for the project and stated that Cambodia has become an attractive market for business and investment in the ASEAN region.
Khong further explained that Ream City will take into account the principles of sustainable design, such as environmental protection and resource recycling. "For example, there will be areas set up to capture rainwater among other green infrastructure efforts, ecological restoration and urban infill, and a transit-oriented development…" He said: "In our pre-qualification process for design consultants, we've placed an emphasis on their experience on designing green initiatives amongst other design-related aspects,".
"Building orientation would take into consideration not only views offered by the sea and golf course but the sun as well. The most appropriate material for the developments would then be proposed for eventual use during construction."
Khong added that amenities would be built within "comfortable walking or cycling distances for each phase of development. To encourage residents to adopt non-motorized forms of transport, appropriately designed tracks or footpaths are planned. The usage and promotion of environment-friendly vehicles will also be considered."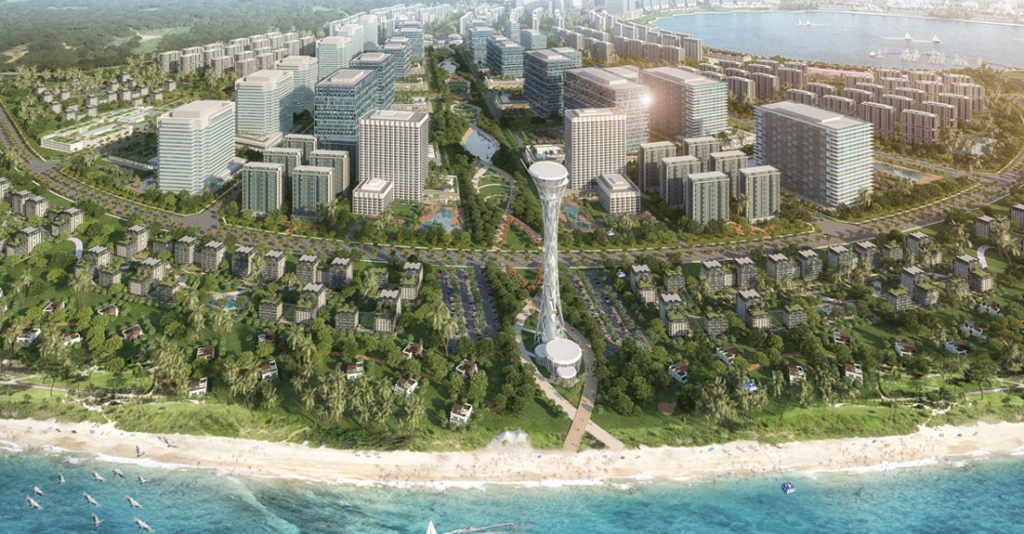 Mr. Yeo Choon Chong, CEO, ASEAN, Surbana Jurong said, "Cambodia continues to attract a steady flow of foreign direct investments. With our partners, we see immense potential to drive growth in this key market through our participation in iconic infrastructure projects."
"The proposal prioritizes the integration of nature to enhance the built environment. A major part of the plan includes an extensive beachfront that stretches beyond 6km. This will support a wide range of waterfront activities and inject vibrancy to the community. The plan also includes infrastructure enhancements to the community to support civic and community facilities such as schools, parks and open spaces, sports complexes, polyclinics, and neighborhood-level amenities. Once fully developed, Ream City will be an exciting destination for dining, retail, work, recreation, and living.", Yeo added.
Ream City is designed as an iconic Cambodian landmark and includes family attractions, rural and urban condominiums, beachfront homes, affordable housing developments, a shopping center, business center, beach resort, hotels, condotels, marina, and club. The project also includes the development of two new beaches which will be made available to the public after the completion of the project
If you are looking for property in Ream, Cambodia, please contact us.
Sources