Koh Rong, a stunning island destination located off the coast of Cambodia, is making significant strides in improving its infrastructure. In recent years, the island's road network has undergone a significant transformation, with approximately 70% of the roads now completed as of March 2023. The newly constructed roads provide easy access to all of the island's beautiful beaches, making transportation between them more convenient than ever before.
Whether you're a nature lover looking to explore Koh Rong's pristine beaches and jungles, or a foodie searching for the island's best dining experiences, the improved road network makes it all possible. The upgrades have also made it easier for visitors to explore the island's many attractions and unique cultural offerings, from its traditional villages to its lively night markets.
According to the CEO of Royal Group, Kith Meng, the island's road network improvements are part of a larger infrastructure development project that began in July 2020. The Royal Group Koh Rong Development Company signed an agreement to construct a 70km concrete road with an investment of $35 million. As of January 2023, 50km of the road has already been completed, marking a significant milestone in the island's infrastructure development.
In addition to the island's road network, Koh Rong is also seeing significant infrastructure developments in other areas. One such development is the construction of an airport on the nearby mainland of Dara Sakor. The Dara Sakor airport, which is set to open in late 2023, will provide easy access to Koh Rong for both tourists and residents. With the Dara Sakor airport only a short distance away, visitors can expect quick and convenient transfers to and from the island.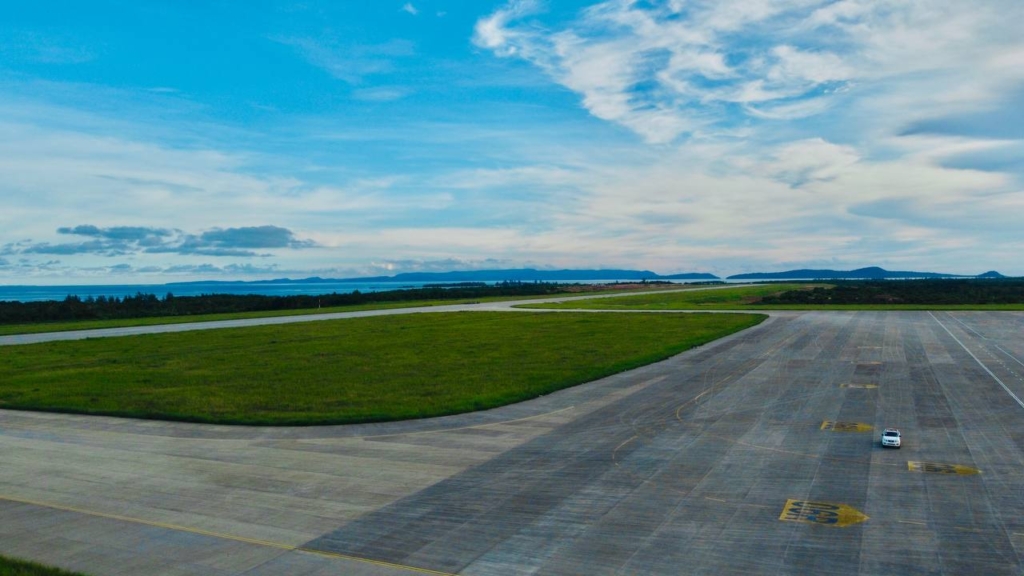 Another major project currently underway in the area is the Phnom Penh-Sihanoukville Expressway, which opened to the public for a month's trial use in October 2021. The 187km expressway, which connects Phnom Penh with the deep sea port province of Preah Sihanouk, is expected to significantly boost the region's economic growth by reducing travel time and logistics costs. Moreover, the expressway will make it easier for visitors to access Koh Rong, as it will cut travel time from Phnom Penh to the nearby port city of Sihanoukville from five hours to just two.
Koh Rong's infrastructure development also includes the ongoing construction of its electric grid and street lighting system. The project, which is currently 50% complete, is a joint effort between Royal Group and state-owned utility Electricite du Cambodge (EDC). Once completed, the island will be able to provide its residents and visitors with reliable and uninterrupted electricity, as well as safer and better-lit streets.
All of these developments are sure to have a positive impact on Koh Rong's real estate and tourism industries. As the island becomes more accessible and its infrastructure continues to improve, demand for property and tourism services is expected to increase. For investors and property buyers, now is an ideal time to take advantage of this growing demand and invest in the island's bright future. With improved road networks, a new airport, and modern infrastructure upgrades, Koh Rong is poised to become one of the premier island destinations in the region.